Shine On with Kacey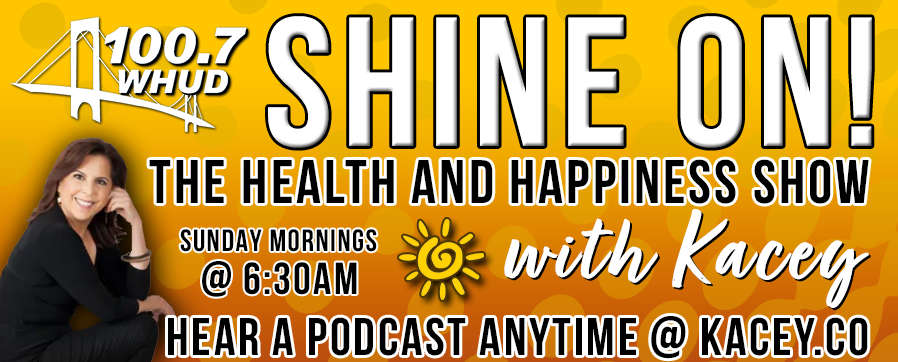 "Shine On: Kacey's Health and Happiness Show" is about finding balance in your life, improving your health,
helping your family, building your dreams, and giving to your community.
The show airs Sunday mornings at 6:30 am on 100.7 WHUD.
Kacey Morabito Grean wakes up Westchester and the Hudson Valley on Mike and Kacey in the Morning.
Sunday mornings at 6:30 am Kacey hosts Shine On: The Health & Health Show - which is also a popular podcast.
On Fridays you can hear Kacey's Health & Happiness Minutes 8:55 AM, 1:55 and 6:55 PM.
In 2020 Kacey founded Let It Shine Inc., a nonprofit that creates inspirational events and offers grants and gifts to women.
Let It Shine also runs The Food Pantry and Farmer's Market in Verplanck. www.letitshineonline.com
Kacey is a certified life coach, reiki practitioner and motivational speaker who travels the metro area giving inspirational talks including "Everything I Need to Know I Learned on the Radio."
She hosts women's retreats online and at Mariandale in Ossining and Graymoor in Garrison.
You can join her Facebook community called A Circle of Women and hop on the free inspirational zoom calls "Sunday at 11".
Get details at www.kacey.co
Kacey's husband Mike Grean is a carpenter, home inspector and Junior Rangers Hockey Instructor.
They have a houseful of pets and backyard full of chickens.