Andy Bale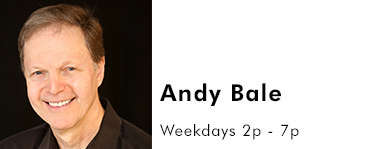 For years, Andy Bale has been as much a part of the Hudson Valley drive home as potholes on the Taconic! Andy's blend of music, humor and information makes the rest of your work day fly by and he has twice won "New York Broadcasters" awards for his celebrity interviews. With traffic and news updates and more ways to win, 2-7PM with Andy Bale is the only way to go. Make sure to catch Andy's "Hudson Valley Artist Spotlight" on Fridays.
Millions of moviegoers have seen Andy as "Oscorp Executive" in the hit movie, "Spiderman 2." He's also had roles in "Darkman" and "Army of Darkness". Did you also know that Andy plays the bass guitar in local bands and has played on a number of commercial jingles? (ask him next time you see him).
Join Andy Bale, 2-7PM on 100.7 WHUD.