JOE LUNDBERG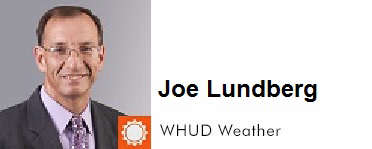 Joe Lundberg was born in Washington, D.C. on November 22, 1961. When Joe was 9 months old, his family moved to Ledyard, Connecticut where he graduated from Ledyard High School in 1979. He enrolled at Pennsylvania State University and graduated in 1983 with a B.S. in Meteorology.
Joe was actively involved with Intercollegiate Meteorological Competition. In the 1988-89 and 1989-90 seasons, he placed second in the nation in the faculty/staff division; sixth overall in 1988-89 and fifth overall 1989-90. In the 1989-90 National Collegiate Weather Forecasting Contest, Joe was the National Chairman and placed first in the Burlington, Vermont portion of the contest.
Married to Shelley in 1986, Joe has three children: Joe Jr., born in 1987, Kirsten, born in 1989 and Julie born in 1992.
On September 1, 1990, Joe joined AccuWeather, the world's largest commercial weather organization. He worked as a "roving" morning broadcaster until he was assigned a fixed schedule. Now Joe can be heard daily on radio stations from New England to Texas and up to Alaska. Additionally, Joe is working in television, broadcasting live for MSNBC on weekends and taping for Texas Cable Network Monday through Friday.
Outside of AccuWeather, Joe is very active. He is an elder of Faith Alliance Church and guides the congregation in song by leading the worship service. He also sings every year in the Bellefonte Victorian Christmas Choir.
An avid bowler, Joe carries a 195 average when in good form. He plays first base and pitcher on the slow pitch softball team. He also plays golf and follows major league baseball.