Backpack Give Back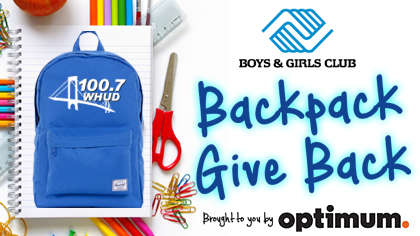 100.7 WHUD AND THE BOYS & GIRLS CLUB OF NORTHERN WESTCHESTER & ORANGE COUNTIES!
100.7 WHUD and The Boys & Girls Club of Northern Westchester and Orange Counties are teaming up to help deserving children in the Hudson Valley receive school supplies for the new school year! You can help! Make a donation in the amount you can afford to help purchase supplies, brought to you by Optimum!
SPECIAL THANKS TO OUR "BACKPACK GIVE BACK" SPONSOR:

Brought to you by Optimum- Combine Optimum Internet with Optimum Mobile and save big. Visit optimum.com today.​