Mike & Kacey in the Morning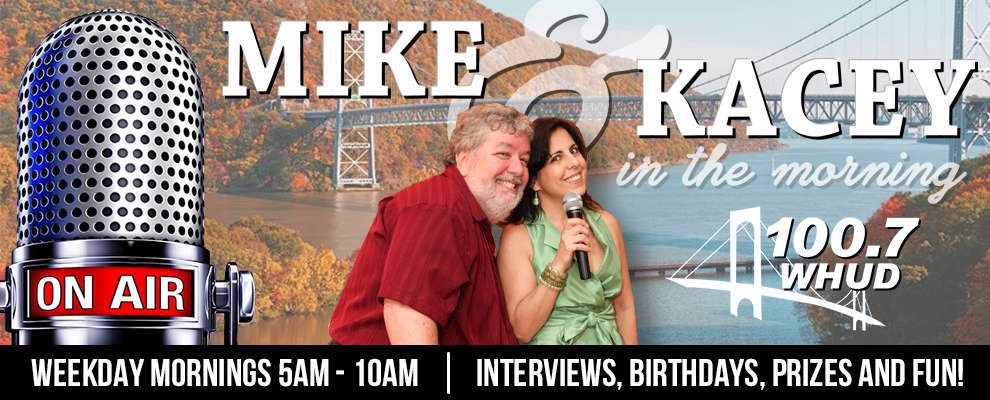 Wake up and start your day with Mike & Kacey on 100.7 WHUD! They will get you through your busy morning with your favorite music, chances to win great prizes, news updates twice each hour, four traffic reports each hour and the areas most accurate weather forecast. Spend your mornings with Mike & Kacey on 100.7 WHUD!
Mike & Kacey's Interviews:

Celebration Announcements
Celebrate with Mike and Kacey Weekdays at 7:45 AM! Birthdays, anniversaries, achievements and milestones!

100.7 WHUD's Celebrations are brought to you by Jaymark Jewelers!
Mike & Kacey In the Morning debuted on 100.7 WHUD on April 3, 2000, marking the first time the two longtime radio colleagues had been paired together on the air. Listeners immediately responded to their chemistry and the result is the #1 morning show in Westchester and the Hudson Valley. In 2005 the New York State Broadcaster's Association honored Mike & Kacey as the Best Morning Show in the state. They won "Best Morning Show" from Hudson Valley Magazine in 2008.The show features a great music mix, traffic, weather and news updates plus contests with valuable prizes and regular features including birthdays at 7:45am! Hundreds of celebrities including Robert De Niro, Eli Manning, Betty White, Donald Trump, Tom Selleck, Lisa Kudrow, Simon Cowell, Sir Michael Caine and Phil Collins have chatted with Mike & Kacey over the years. And they've interviewed exciting new performers before they hit it big like Josh Groban, Michael Buble, Hayden Panettiere, Shia LaBeouf, Nick Jonas and Jesse McCartney. In 2021, the readers of the Middletown Times Herald Record voted Mike & Kacey Best Local Radio Personalities!
Mike & Kacey are both lifelong residents of the Hudson Valley and bring a wealth of knowledge, experience and local flavor to each day's broadcast. They are well known for their charity work and many local appearances.